Emerson's Gift Shoppe
138 West Bonita Avenue
San Dimas, California 91773

909-592-2452 or
866-361-4438
---
---
Visit the Official Wee Forest Folk Website!
One of our favorite lines is sculpted by the Petersen family in Concord, Massachusetts. Called "Wee Forest Folk," the current line contains mostly mice but also some bunnies, moles, and other animals. We generally carry the entire line of these pieces, which is nearly 100 current mice and animals. Many of these pieces come in multiple colors, as well, making for a large collection!
If you're looking for holiday collectibles, Wee Forest Folk celebrate a variety of holidays: Christmas, Easter, St. Patrick's Day, Valentine's Day, birthdays, and Halloween. Each piece is hand cast, hand detailed and hand painted, making for very intricate detail in expression and clothing. Some pieces contain elaborate settings (beach items, kitchen items, yardsale items, and even an Old Woman in a Shoe) in spite of their very small size.
Pictured below is our store special: the "Green Mummy." Only 60 of these pieces were made and all were sold as "specials" from our store. It is unknown whether or not any more will ever be produced. If you haven't seen it yet, here is your chance!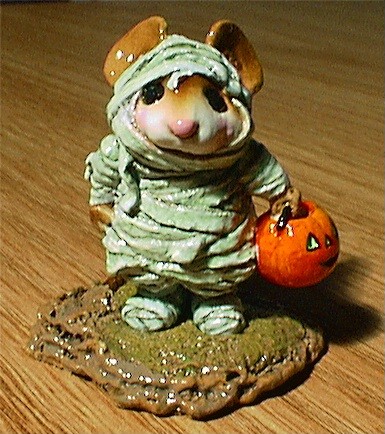 If you're interested in knowing more about WFF, here is a link to a Master List of pieces, including photographs of retired and current pieces: WEE FOREST FOLK MASTER LIST.
Call us for current pieces. And don't forget our 5/6 Flex Plan, which can save you $$$!
The Wee Forest Folk 5/6 Flex Plan
To help collectors purchase the more expensive pieces in the line, we have put into place what we're calling the 5/6 flex plan. For every 5 Wee Forest Folk purchased, you can purchase a 6th piece at half price. There are no restrictions* on what you can select for that 6th piece.
*(Sorry, the Factory has excluded the new "Crystal Clear" Millennium piece from any discounts).